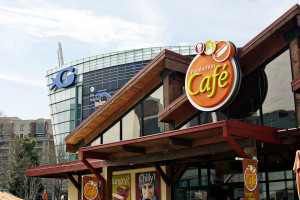 United Electric manages comprehensive, preventative, and routine maintenance programs that enhance productivity, minimize downtime, lower operating and maintenance costs, and meet the special electrical requirements of facilities.
We provide service technicians on regular schedules, full-time, or whenever needed. Available 24 hours a day, 7 days a week, our maintenance programs ensure that facility systems and equipment operate at peak efficiency and reliability.
Retail
From pre-construction to delivery of the completed store, United Electric Company believes that who we are and how we perform should be completely transparent at each step of the project. We consider the impact of our customer with each and every decisions made. All projects are treated like it is something we were building we were building for our own.
As retail construction specialists, we use our expertise to control expenses, stay on schedule, work in open store spaces and provide value to our clients. We get the details right every time.
Low Voltage Systems
At United Electric Company, we are committed to operational excellence and to exceeding our customers' expectations in life safety and property protection.
We provide Fir Alarm, Access Control, Surveillance and Communication Cabling. We value and respect our clients business and are committed to providing a quality product at a reasonable price.
Our extensive knowledge of state requirements and applicable codes will minimize unnecessary cost, delays and frustration.
New Construction
We are dedicated to forming strong teams with owners, design professionals and general contractors from conceptual design through project completion ensuring accuracy and efficiency in maintaining a realistic budget.
We place a premium on process and communication thus managing every job wit "no surprises" results.
We welcome the opportunity to prove ourselves to you.
Commercial Renovation
Founded in 1986, United Electric Company has over 25 years of commercial interiors construction experience for corporate office, medical facilities, broadcasting facilities, data centers, and other specialty projects. United works together with owners and general contractors to ensure your project is completed precisely as your team has designed.
We provide service in Atlanta and throughout the Southeast and are qualified to help design and install electrical systems and equipment for any renovation project.
We ensure that your systems are updated according to local building and fire codes.
Service, Maintenance and Repairs
Our electrical technicians are highly trained to perform top quality work in a safe, efficient and cost effective manner. Our service trucks are fully stocked with material and furnished with the latest in tools and testing equipment. We also have a boom truck available for high pole lighting and building mounted security lighting.
As United Electric Company has grown, we continue to expand our service capabilities. United's Service Department is there to serve our customers 24/7, 365 days a year.
There is no job too small or too big for United Service Department.
HJAIA
Working in the world's busiest airport and maintaining a safe working environment with the constant flow of passengers can be a challenge. We pride in the opportunity to be certified and approved to work in a such a facility.
We focus on retail and tenant build out throughout the main terminal and concourses.
Broadcasting
United Electric has a long history of involvement in broadcasting facilities throughout Georgia. Owners and General Contractors reach out to us for our participation not only in new capital projects, but also for regularly scheduled electrical distribution testing and maintenance within their broadcasting facility.
Data Centers
Data Centers are measured by different companies in different ways. The most important lesson from the data center industry is meeting the needs of the customer which in turn is the key to our continuous success.